May is Self Discovery Month. It is a time to explore your gifts, talents, passion, and voice. It is amazing where life takes you when you stop doing what you think you should be doing and start doing what feels right. Take time to relax and discover your true self.
TED Talks - What makes us happy?
We all want to be happy. But how, exactly, do you go about it? More stuff or less? More choice or less? The answers -- from psychologists, journalists, Buddhist monks -- may surprise you.
African American Poetry Database contains nearly 3,000 poems by African American poets. It provides a comprehensive survey of the history of African American poetry.
Agriculture Collection contains nearly 200 titles, the content covers agriculture and its related fields ranging from farming to scientific research in horticulture.
Alabama Mosaic is a repository of digital materials on Alabama's history, culture, places, and people.
American Song is a history database that allows people to hear and feel music from America's past.
Becomeopedia provides information about various professions, the process and training needed to become a particular profession, along with salary and potential career paths.
Career One Stop provides tools to help job seekers, students, businesses, and career professionals (sponspored by the U.S. Department of Labor).
Chronical of Higher Education is the #1 source of news, information, and jobs for college and university students, faculty, and administrators.
Opposing Viewpoints is the premier online resource covering today's hottest social issues.
MathSciNet provides access to Mathematical Reviews and Proceedings of the American Mathematical Society.
ProQuest Newsstand provides access to over 1300 newspapers, news websites and blogs from leading publishers throughout the world.
U.S. Department of Health & Human Services is the primary Federal agency for improving acces to health care services for people who are uninsured, isolated or medically vulnerable.
On Course provides innovative ways to help students achieve greater academic success and retention.
Blissing Out: 10 Relaxation Techniques
Meditation: A simple, fast way to reduce stress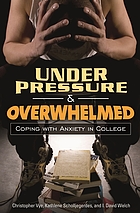 Under pressure and overwhelmed : coping with anxiety in college
Call Number: LA 229 .V94 2007
Publication Date: 2007