Skip to Main Content
It looks like you're using Internet Explorer 11 or older. This website works best with modern browsers such as the latest versions of Chrome, Firefox, Safari, and Edge. If you continue with this browser, you may see unexpected results.
CSE Citation Manual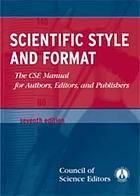 This is the edition we have readily available in our library.
From the University of Wisconsin-Madison's Writing Center
View this page in a format suitable for printers and screen-readers or mobile devices. 915 South Jackson Street • Montgomery, Alabama 36101 • (334) 604-9093